WAWFE INTERNATIONAL FORENSIC AWARDS
WIFA 2021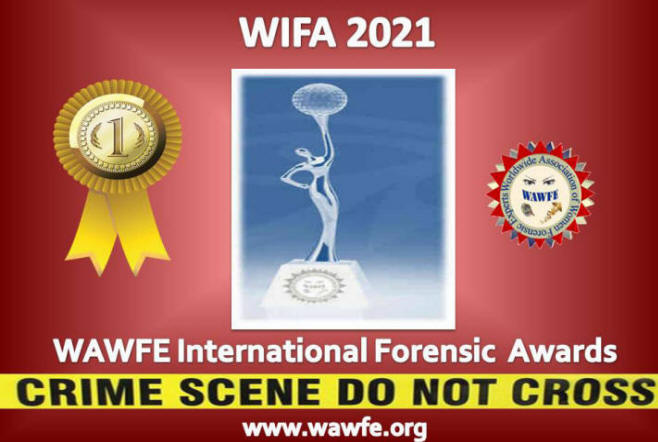 WAWFE International Forensic Awards (WIFA) is an international contest promoted by WAWFE in order to reward young experts and professional distinguished for their activity and career in the field of forensic science all over the world.
CRIME SCENE INVESTIGATIONS
CRIMINOLOGY
COMPUTER FORENSICS
FORENSIC ANTHROPOLOGY
FORENSIC ARCHEOLOGY
FORENSIC BALLISTICS
FORENSIC BIOLOGY
FORENSIC BOTANIC
FORENSIC ENTOMOLOGY
FORENSIC GENETICS
FORENSIC GEOLOGY
FORENSIC GRAPHOLOGY
FORENSIC MICROBIOLOGY
FORENSIC ODONTOLOGY

FORENSIC TOXICOLOGY
FORENSIC PSYCHOLOGY
FORENSIC VETERINARY
LEGAL MEDICINE
Young Experts : open to young professionals (till to 35 years old)
Professionals : open to experienced professionals (over 35 years old)
To participate in the context is required :
- WAWFE Membership
-Minimum Qualification Degree (Bsc) and Master (MSc)
- Demonstrated experience in the field of forensic science
- Publications in indexed scientific journals
Two different Prize Committees composed by internationally well known experts from different countries, belonging to WAWFE network, will select the winners per each category evaluating their scientific trajectory and their contribute to the forensic field for which they apply.
Prizes Committees in addition will assign special prizes per each categories to experts known for their contributions to forensic sciences even if they do not match requirements for regular categories. (Special Categories)
Awards will be assigned to winners during an online Ceremony that will be held in December 2021
Members of WAWFE Board, WAWFE Coordinators and any external collaborator cannot participate in the context.
Participation in the contest is FREE
Start date : March 1, 2021 End date : November 30, 2021
To partecipate in the contest WAWFE International Forensic Awards is necessary to download and fill in the WIFA Application Form
WIFA form must be sent back to forensicawards@wawfe.org
Other documents or emails with personal data will NOT be accepted
Personal informations will be utilized only for the present contest.
The Committee reserves the right to verify titles and competences asking the participant to send related certificates.
WAWFE LINE DO NOT CROSS WAWFE LINE DO NOT CROSS WAWFE LINE DO NOT CROSS WAWFE LINE DO NOT CROSS