Welcome to WIC2020!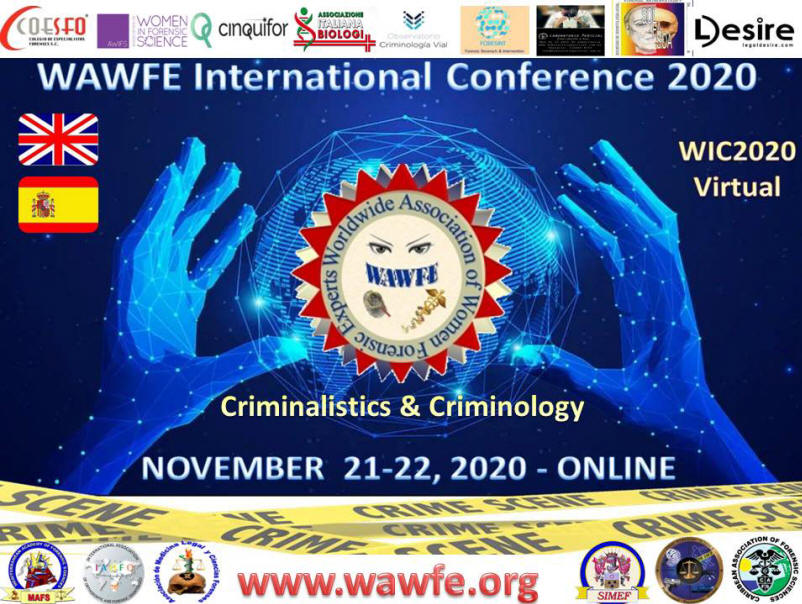 In this difficult year due to COVID-19 emergency that worldwide changed traditional habits we're pleased to welcome you to the
WAWFE INTERNATIONAL CONFERENCE 2020 - Virtual Meeting of Criminalistics & Crimininology

The event will be also an occasion to meet virtually international forensic experts and
to learn from them, exchanging
experiences and knowledges in forensics.
Crime Scene Investigation
Digital Reconstruction
Forensic Anthropology
Forensic Biology
& Genetics
Forensic Ballistiscs
Forensic Botanics
Forensic Entomology,
Forensic Odontology
Forensic Toxicology
Forensic Veterinary
Legal
& Clinical Forensic Medicine
Forensic Accreditation, Education and Training
Traffic Accident
Criminology
Terrorism
Saturday November 21

Spanish Session

CEST

10:30 -13:30

Break

15:00 - 18:00

Sunday November 22

English Session

CEST

10:30 -13:30

Break

15:00 - 18:00

10:15 Conference Inauguration

Anna Barbaro, WAWFE President



10:30 La investigación criminólogica de la seguridad vial
Jose María González González (Observatorio Criminologia Vial, Spain)



11:00 Violencia animal y domestica: teoría del Link)

Tália Missen Tremori (Forensic Vet Med, Brazil)



11:30 Botanica forense :un caso real llevado a juicio en Costa Rica

Rossana Oliva (Poder Judicial de Costa Rica)


12:00 La Huella no Verbal del Crimen

Cristian Salomoni (Instituto Internacional de análisis de la conducta, Spain)



12:30 Veterinaria forense y Visión del grupo de trabajo en

Ciencias Forenses Animales

Victor Toledo (Universidad de Alcalà de Henares, España)


13:00 Captación y Radicalización Violenta en entornos críticos

y su Prevención
Ramon Chipirras (Universidad de Granada, España)


Break


15:00 Reconstrucción virtual de rastros de sangre

Federico Baudino (Oficina Reconstrucción virtual, Argentina)


15:30 Actuación del odontólogo forense en catástrofes.

Alan Diego Briemm Stamm (Universidad de Buenos Aires, Argentina)



16: 00 Trabajo social forense: Innovación en la conceptualización e intervención

Cinthia Muñoz (Forensint, Chile)
.

16:30 Documentoscopía - Caso Judicial Abuso De Firma En Blanco

Federico Rindlisbacher (Instituto Universitario de la Policía Federal Argentina)



17:00 La Odontología Forense y los Derechos Humanos

Judith Prado (SOLFASOA, Argentina)


17:30 Feminicidio, la intervención de campo

Martin Balderrama Almeida (COESFO, Mexico)



18:00 Analisis de Patrones de sangre en un caso real

Franco Mansilla & Maira Lopez (Policía y Ministerio de Educación

de Santa Cruz, Argentina.)



10:00 Forensic Education in COVID times:

a reflection on use of technology in teaching.
Samar Abdelazim (Ain Sham University, Egypt)

10:30 Overview of Firearms Examination and Identification

(Dubai Police, UAE)

11:00 Evidence collection in contemporary forensic archaeology

and anthropology.

Almir Olovcic & Sandra Sostaric

(International Commission on Missing Persons, ICMP).

11:30 The attitude of people with an Arabic Islamic background towards medicolegal Autopsy

Dalia Al Saif (Centre of Forensic and Legal Medicine KSA

12:00 Population genetics data of 23 autosomal STR loci for three Populations in United Arab Emirates

Mohammed Naji (Dubai Police, UAE)

12:30 A management System for forensic Laboratory: CLIMS platform.

Murat Isik (Verisis, Turkey)

13:00 Z-drug Abuse- A Forensic Perspective

Amarnath Mishra (Amity Institute of Forensic Sciences, India)

Break

15:00 Environmental Forensic

Mahipal Singh Sankhla(Legal Desire Forensic, India)

15:30 The Role of Forensic Sciences in Enforced Disappearances and Human Rights Violations

Carlos Gutierrez (True Forensic Science & University of Honolulu, USA)

16:00 Vicarious Traumatization for the CSI

Leggie L Boone (Polk County Sheriff's Office, Florida, USA) -

16:30 Evaluation of the Schmidt Styliner Mark 3 firearm scribing machine for the marking of unspent ammunition for the control of ammunition in the Caribbean

Gregory Williams (University of the West Indies, Jamaica)

17:00 Forensic Entomology in Veterinary Forensic Sciences

Jason H Byrd - (University of Florida, USA)

17:30 The Emergence of Forensic Science in the Caribbean

Hillary Mullings (

University of the West Indies,

Jamaica

)

18:00 The Traffick of Nigerian Women

Concetta Grillo (Penal Judge and Criminologist, Italy)

18:15 Conference Closing

Cecilia Pastor Cuba (WAWFE Vice-President)
Conference Informations & Registration
The virtual conference will be held on Go-toMeeting platform.
To register download and fill in the registration form .
No WAWFE

Members

1-day Conference

Euro 25,00

Euro 30,00

2-days Conference

Euro 45,00

Euro 50,00
In order to enjoy discounts

WAWFE membership is required.

Registration includes : personal link to enter the conference , attendance certificate

Registration is available until November 15. Limited number of participants.

Like WIC2020 page and get updated!