Welcome to WIC2020!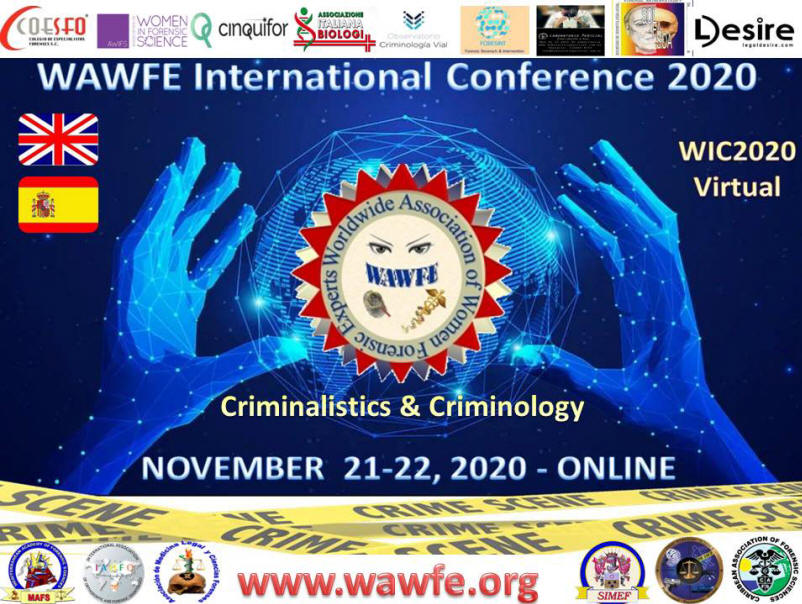 In this difficult year due to COVID-19 emergency that worldwide changed traditional habits we're pleased to welcome you to the
WAWFE INTERNATIONAL CONFERENCE 2020 - Virtual Meeting of Criminalistics & Crimininology

The event will be also an occasion to meet virtually international forensic experts and
to learn from them, exchanging
experiences and knowledges in forensics.
Crime Scene Investigation
Digital Reconstruction
Forensic Anthropology
Forensic Biology
& Genetics
Forensic Ballistiscs
Forensic Botanics
Forensic Entomology,
Forensic Odontology
Forensic Toxicology
Forensic Veterinary
Legal
& Clinical Forensic Medicine
Forensic Accreditation, Education and Training
Traffic Accident
Criminology
Terrorism
Saturday November 21

Spanish Session

CLICK ON THE FLAG TO OPEN THE PROGRAM

Sunday November 22

English Session

Start at : 10:00 CEST TIME

CLICK ON THE FLAG OPEN THE PROGRAM
Conference Informations & Registration
The virtual conference will be held on Go-toMeeting platform.
To register download and fill in the registration form
WAWFE Members

WIC2020 Partner Associations

Members

UAH Students

No WAWFE

Members

Students

1-day Conference

free

Euro 30,00

2-days Conference

free

Euro 50,00

Half day Conference

free

Euro 15,00
Euro 13,00
Registration is FREE for :

WAWFE members, UAH Students and members of the following Conference Partners Associations:

IAOFO,COESFO,MAFS,AWIFS,CAFS, LegalDesire,SOLFASOA,LaboratorioPericial,FORESINT,TRUEFORENSİCSCİENCE, Observatorio de Criminología Vial
AMELICIFO

In order to enjoy free registration

WAWFE or other association membership is required.

Registration includes : personal link to enter the conference, attendance certificate

Limited number of participants.

Like WIC2020 page and get updated!